What kind of ESD furniture is suitable for EPA area?
When a floor or mat is in place and grounded, you must focus on workstation furniture. All furniture used in an EPA should be ESD protected, particularly furniture that is close to the working surface, i.e. the location where components or other electronics are being handled.




Is it difficult to set up an ESD environment?
Setting up an ESD environment is simple and straightforward. An ESD-protected area can be small, for example, one workbench. Or it can be large, with hundreds of workbenches. However, both areas need the same procedures, only the scale is different.
Potential levels of ESD furniture
In general, the ESD standard restrains the potentials to 5 000 volts/m and < 125 volts for "hotspots". It is essential to check the potential levels with proper measurements. Individual opinions are not reliable enough.
ESD workbenches
There are two types of ESD-protected workbenches. When a workbench is semi-conductive through its structure, ESD protection is in place as soon as the bench's feet touch an ESD floor. This is very simple and easy. Other benches always require wiring to a common point ground.
It is essential to check the potential levels with proper measurements. Individual opinions are not reliable enough

ESD safe workbench accessories
All workbench accessories that make the workbench fully functioning and ergonomic constitute potential risks to ESDS (Electrostatic discharge sensitive) components and should also be ESD protected. For example, shelves, drawers and plastic boxes.
Whether or not they are a risk, analyses of product sensitivity, manufacturing process and voltage potentials/distances to sensitive components are necessary. This is one of the important issues to be covered in the ESD control plan.
ESD-safe furniture such as trolleys and chairs can be used without extra protection if an ESD floor or mat is present. It is very smart to have ESD-protected trolleys if you move components around. And don't forget the tools used to assemble sensitive components. They should also be ESD safe and checked and cleaned on a regular basis.

A comprehensive selection of ESD-protected furniture
Treston has decades of experience in developing, manufacturing and supplying ESD furniture. All our industrial workstations are available in ESD-compatible versions, with an electrically semiconductive coat of paint. We also supply industrial, ESD-compatible trolleys, shelves, cabinets, chairs, lights and accessories.
Treston's ESD safe furniture
ESD Workbenches

ESD Storage Systems

ESD Trolleys

ESD Drawers

ESD Lighting

ESD Task Chairs

ESD Accessories
Read more about the ESD furniture



Want to learn more about ESD protection?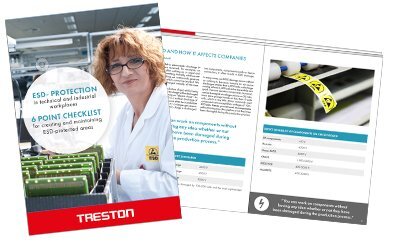 Please wait, loading product information...