How to design an ergonomic trolley? Tips and pre-configured trolley layouts.
In industrial and technical environments, work is not always stationaery, and work equipment needs to be moved between workspaces. Trolleys that are light to move are making this easier, whilst simultaneously improving ergonomics and productivity at work.

In this article, we will show you some popular, pre-configured trolley layouts, tell you about the importance of ergonomics, and go through the questions that will help you design a trolley that fits your needs precisely.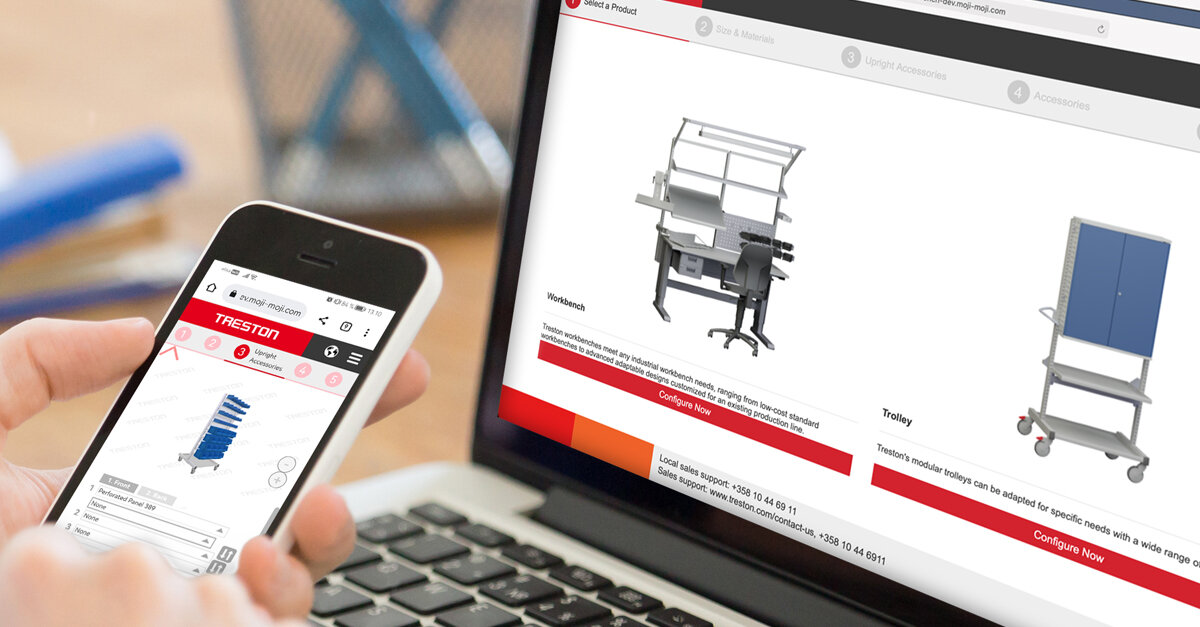 One trolley – endless possibilities
Treston's selection has about twenty different basic trolley models. The modular trolleys come with a range of accessories and can easily be customised for different jobs and working environments. In addition, with our new trolley configurator, you can design a trolley yourself to suit your own specific requirements.
With the trolley configurator, you can design our most adaptable trolley, Treston Multi Trolley, your way. This one trolley model enables endless different configuration possibilities. You'll receive the plan directly in your email and in the same application, you can also design your entire workstation, if you wish.
Get started with the most popular trolley layouts
You can design multiple different versions of the Treston Multi Trolley. To make it easier for you, we have collected the most popular versions of the trolley in this article. This way you'll get to begin your own design directly based on the popular pre-configurations.
Note: If you can't find a trolley that you are looking for, take a look at the trolley selection or contact our sales team. We can also customise trolleys and other workstation solutions.
TRESTON STACKING BIN TROLLEY
TRESTON MULTI TROLLEY WITH PERFORATED TOOL CABINET
TRESTON MULTI TROLLEY WITH ADJUSTABLE SHELVES
TRESTON MULTI TROLLEY WITH SHELVES
Manual handling of loads is generally considered to be an occupational risk factor for lower back and shoulder complaints
Why is ergonomics important when designing a trolley?
Manual handling of loads is generally considered to be an occupational risk factor for lower back and shoulder complaints, and it is in fact the most common cause of occupational fatigue, lower back pain and lower back injuries.
Pushing and pulling are the two physical tasks most commonly related to working on and operating trolleys. The most common risk factors related to pushing and pulling tasks, which could hinder ergonomics, are forceful pushing/pulling, trolley design that does not promote neutral body postures, wrong direction of exerted forces (e.g. pulling when you should be pushing), one-handed pushing or pulling, loads that are too heavy, and wrong handle height.
Read more about trolley ergonomics: Mobile ergonomics with Treston trolleys

Consider these questions before you start
What is the purpose of the trolley?
Are you looking for a trolley for a specific purpose or a multi trolley that is suitable for many tasks?

What kinds of objects are being handled in the trolley?
The weight and size of the objects transported in the trolley are essential factors when determining the capacity and the size of the shelves and the working surfaces. Tiltable shelves improve the accessibility of objects and facilitate their handling.

How are the objects being handled?
If you handle unsorted and loose items, it is good to choose shelves with edges or a mat so that the items stay in place. Another option is to use a trolley with side walls that are at least partially closed.

In what kind of work environment is the trolley being used?
Do you have to move through doors and over thresholds? How wide are the walkways in the space?

What kinds of wheels does the trolley require?
A high-quality wheel is a suitable size in relation to the working environment and purpose of the trolley.

What about the handles?
If the trolley is going to be transported a lot, it is good to have at least one handle.

Is the trolley ergonomic?
Are there several people working at this workstation? Are there different tasks carried out that require different working postures? Make sure that the height of the cart's handles, work surfaces, and accessories can be easily adjusted to each worker and task.
Please wait, loading product information...