FT Technologies improves efficiency and ESD safety with Treston workstations


Established in 1981 FT Technologies are the market leaders in the design and manufacturing of high performance Acoustic Resonance wind sensors. However, after 30 years of successful business they were beginning to outgrow their original head office and factory so the decision was made to move to a refurbished, state of the art facility in Sunbury-on-Thames, southwest London.
FT Technologies Requirements:
A safe, ESD protected working environment
The flexibility to reconfigure the workbench set up as needs change over time
A way to streamline the manufacturing process
Each workstation to be configured differently for each manufacturing process
After several years of working together FT Technologies were confident that Treston would be able to produce a solution that was to their given brief and would suit all of their needs in each location of the project:
Research & Development Laboratory
Production & Assembly
Goods In / Good Out Area
"FT Technologies have invested in new equipment for the next 15+ years, the Treston benches like the FT Technologies product are rugged and designed to last. Several competitor products we viewed didn't give us the same level of confidence, modularity and robustness" – David Walch, Operations Director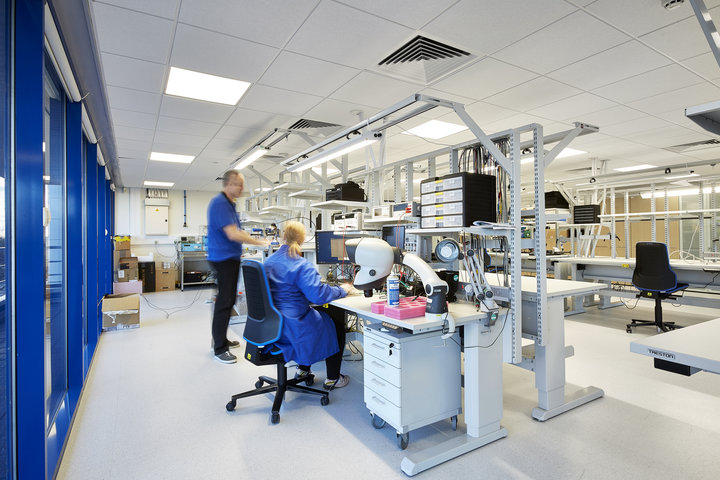 Within the Research and Development Laboratory it was important that the benches were not only ESD protected, but also able to withstand a large weight bearing load. Treston's Concept Electric Height Adjustable Workbench was the most fitting solution for this area. With a maximum weight limit of 400kg it is able to manage the robust equipment used, the flexible modular design and accessories available to them means that workbenches are adaptable to the latest task being worked on. The height adjustability gives the benches an ergonomic aspect to the needs of the user.
In Production and Assembly, it was decided that FT Technologies were going to move away from their old style of all the assembly processes occurring on the same bench to a new system of a single process per workstation to create a better flow and increase production levels. This would mean that in this ESD protected environment they would require a variation of accessories for each differently configured workstation according to the task that was going to be performed. As a result of this 60 Concept Height Adjustable Workbenches were fitted with various accessories including perforated panels, LED task lighting, Shelving, and Storage.
Setting up the singular processes on separate benches has enabled:
Good process focus for the worker
Changes to tooling
Process step changes to be made quickly and effectively, making life for the operators easier, quicker and minimising mistakes.
Since opening the facility FT Technologies have reconfigured many of the workbenches as the processes have evolved. This is natural in manufacturing and the Treston benches have allowed this flexibility through their modularity. Splitting manufacturing into smaller steps on Treston benches has allowed FT Technologies the flexibility to increase throughput by adding more personnel when needed.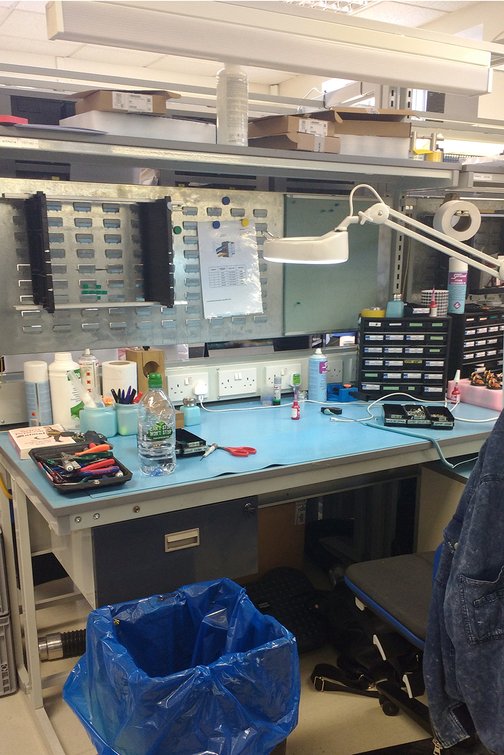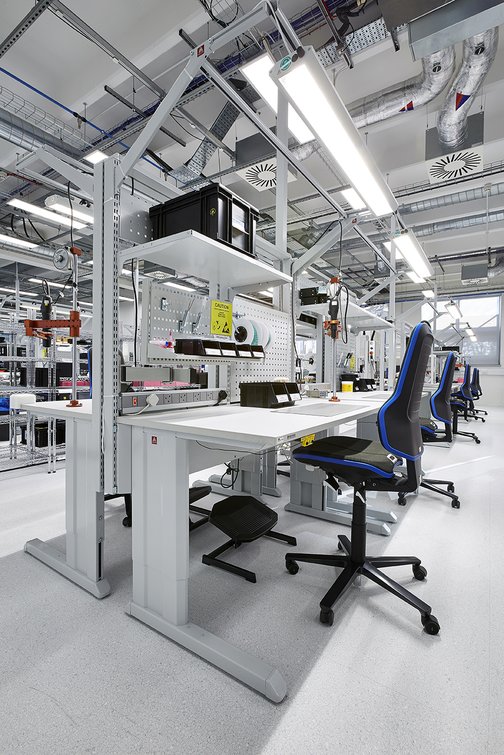 "Having a sample bench to 'play' with worked really well. The 3D Configurator bench selector tool online was also very useful. A massive input to FT Technologies manufacturing area and process design was gained from visiting customer sites with other Treston products. This helped us to make decisions on FT Technologies process design, not just on bench selection but also on ESD practises, product flow, racking & trolleys, getting power to benches, H&S, tidiness….etc" - David Walch, Operations Director
The final area that Treston were brought in to focus on at the new facility was in their Goods In / Good Out Area. FT Technologies were needing a stand-alone solution that would be able to give them a faster and well organised throughput when picking and packing their products. Treston's FlexFlow shelving was able to offer this adjusted to their individual needs of size and scale with extra shelves and roller tracks. The modularity of Treston's products mean that if future adjustments were needed to be made to add to the solution this would be easily possible.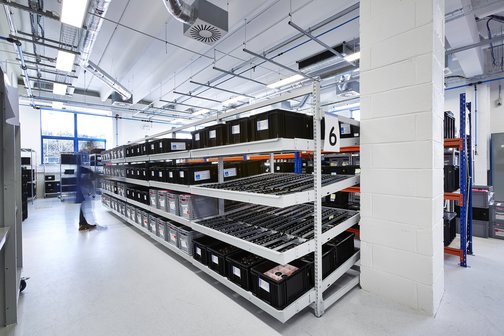 This addition to this department has led to less Work-In-Progress, a higher productivity level with quicker turn arounds and also keeps inventory well managed. Adjusting this product to FT Technologies individual needs keeps them well equipped and benefits the whole production process.
As a result of Treston's installation of products at FT Technologies new facilities the organisation has been able to:
Streamline their manufacturing process and increase productivity.
Maintain an excellent level of ESD dissipation.
Adapt and re-configure their workbenches as per the needs of the worker and in line with the task at hand due to a modular solution.
Use height adjustable benches to meet the workers ergonomic needs. Proven to increase productivity and reduce health issues.
We look forward to working with FT Technologies again in the future.
More information about FT Technologies at https://fttechnologies.com/.
Please wait, loading product information...